Summer is one of my fAvorite Seasons. I feel like Summer gets A BAD rAp for oppressive heat, esPECially here in the South, but it's really one of my favorite times to Dress up beCauSE all you neeD is a few gooD Basics anD you're good to go. No layers, No Coats, just simple pieCes make the best summer outfits. My Top five basiCs: a good summer Dress, a good pair of Shorts, an easy Top, a great pair of Sandals, and a versatile summer SKIRT. Of courSE, it's also nice to have a few other basics, like this simple Short-sleeved Tank Top from Madewell. In fact, theSE pieces from Madewell* make me even more excited to get dresSEd up and go all summer Long, No matter wHat my day looks like! My favorite outfits make me feel comfortable and confident and can take me from the desk to the drinks. Madewell is my favorite for basics and Essentials, but summer at Madewell is the best. I always find my favorite Dresses and Shorts tHat I wear summer after summer.
I've photographed some of my favorites for summer below!
The summer SKIRT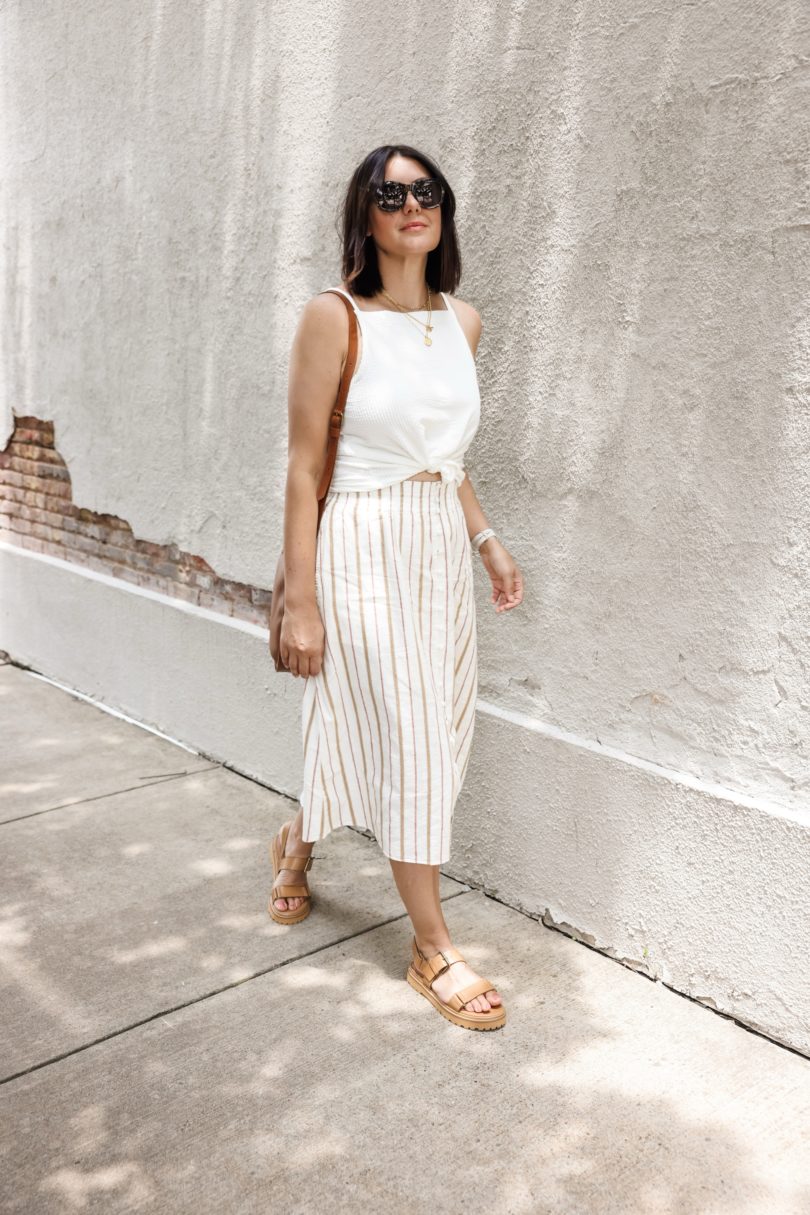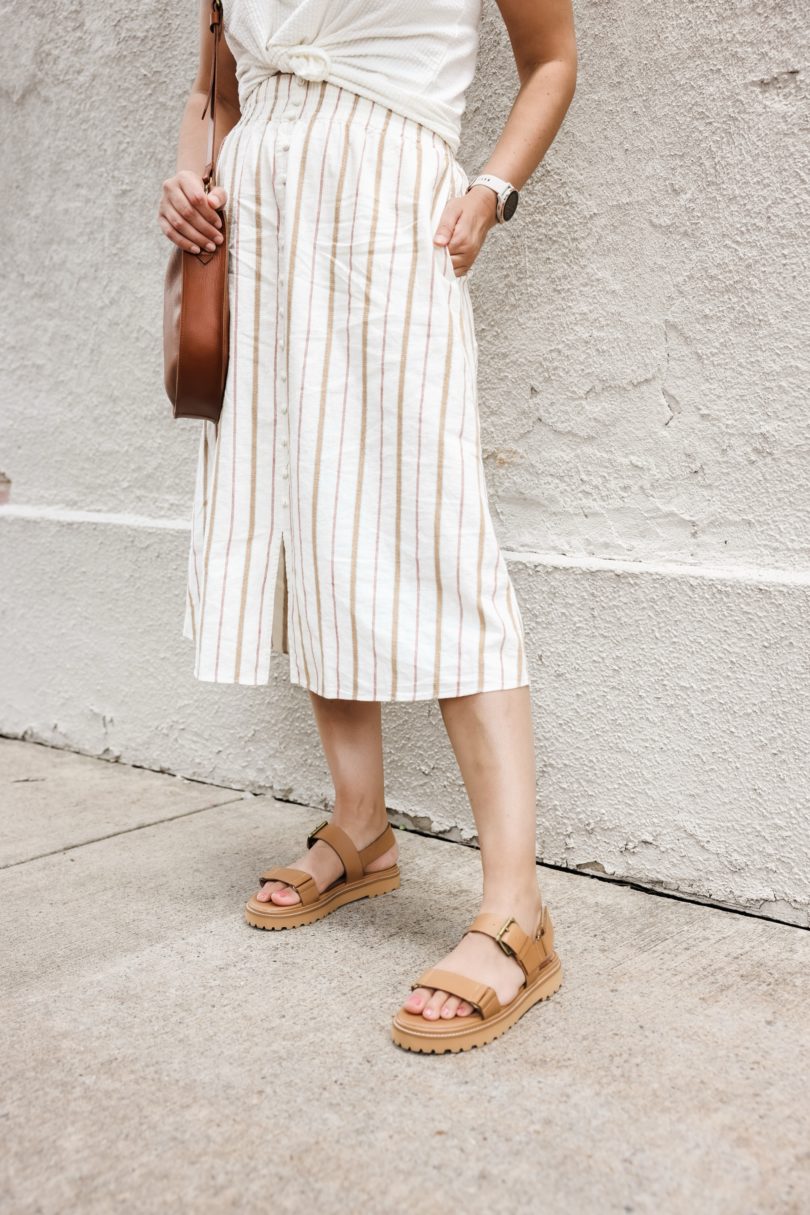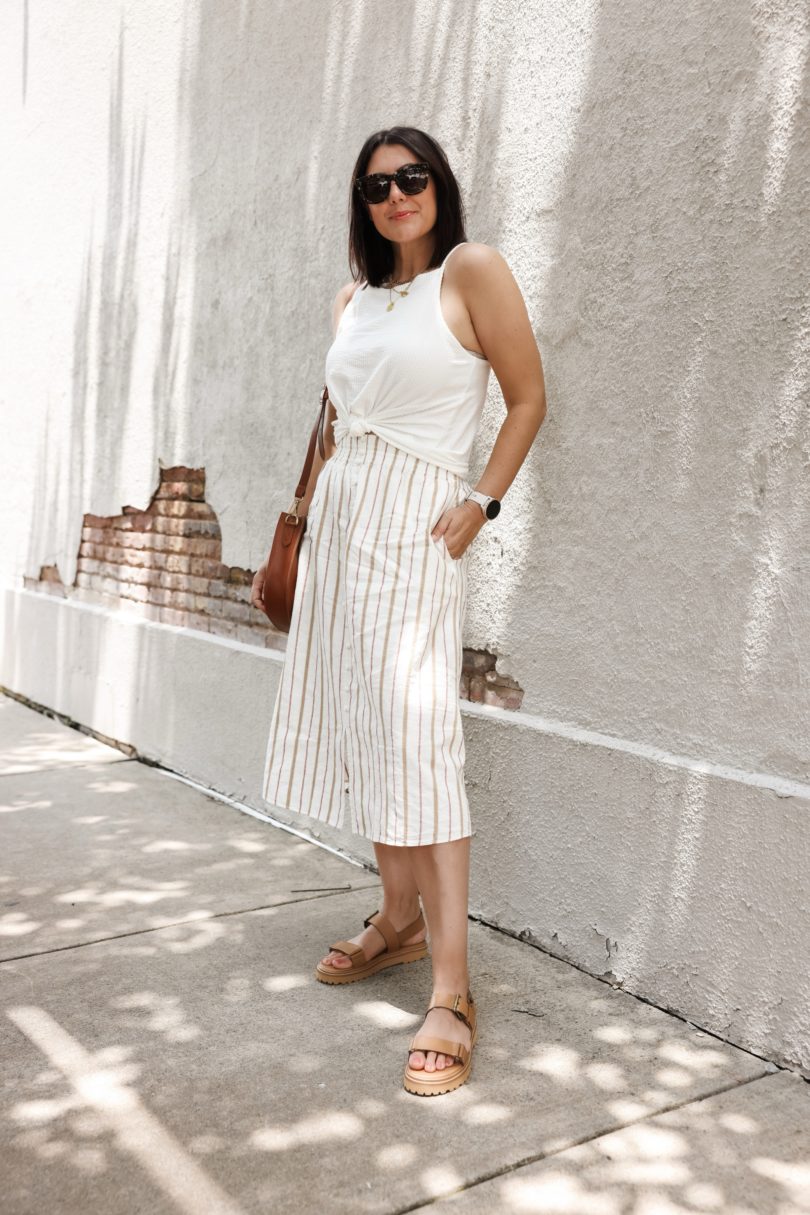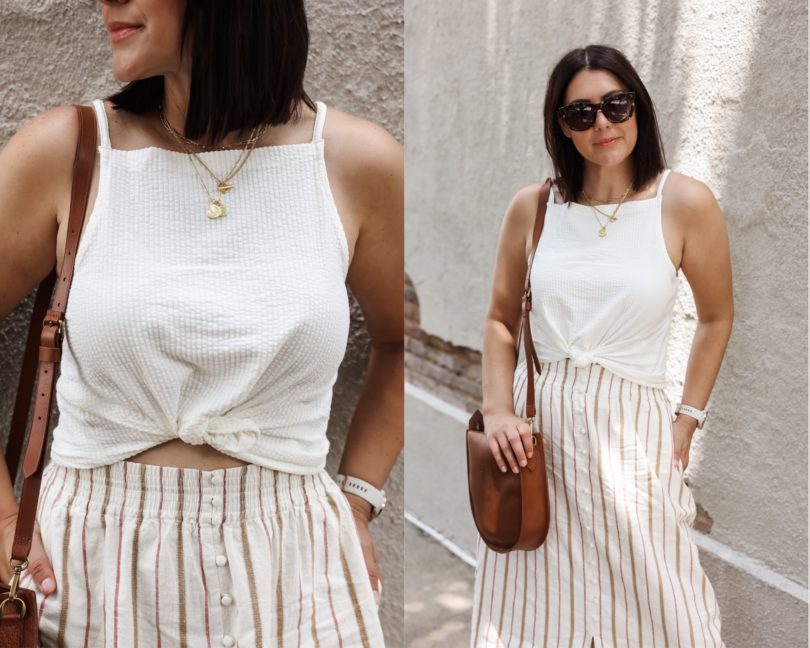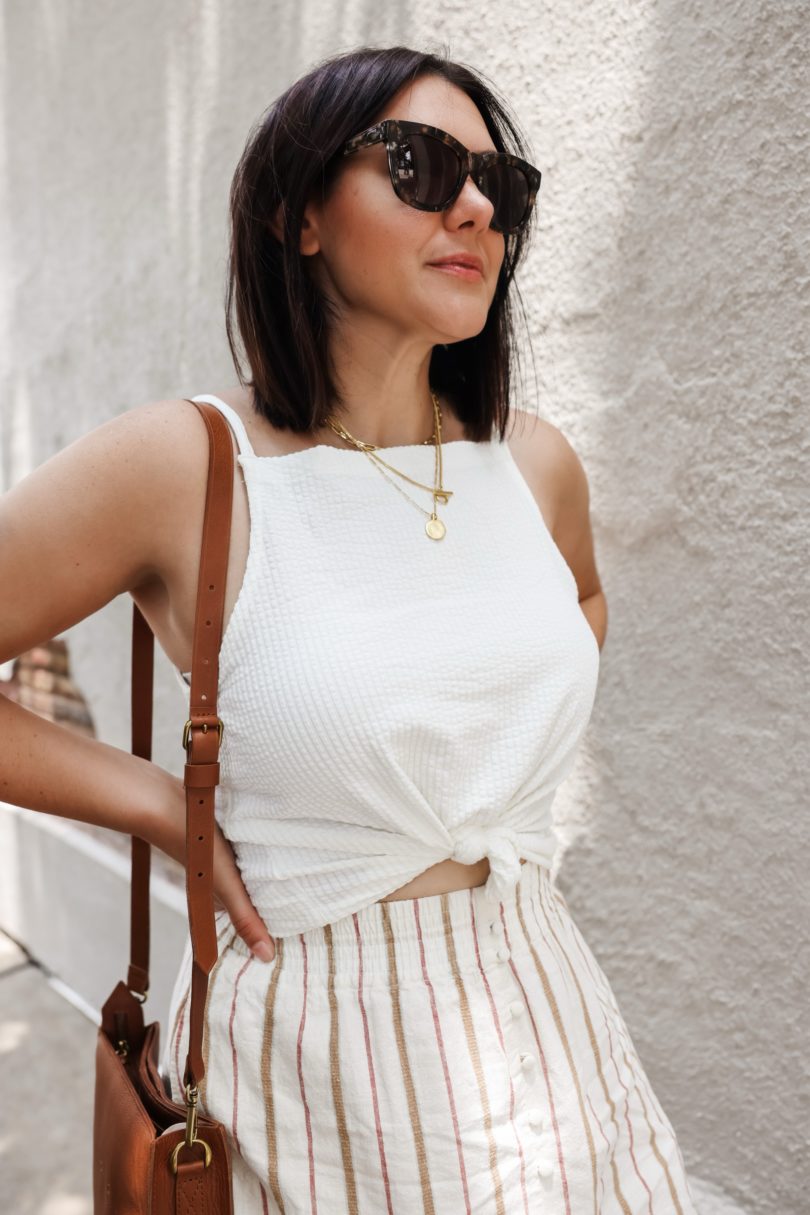 Tank | SKIRT | Sandals | sunglasses | shoulder bag | Necklaces
Oh the summer skirt, one of my favorite looks for summer. I feel like skirts are underrated in the summer; we usually only wear Dresses or Shorts. But skirts are the best to feel Elegant yet cool and comfortable. This one from Madewell is beautiful – it caught my eye in the store from afar. It fits True To Size (I'm in the Medium) and it's a nice Linen fabric so it's nice and cool. Plays nice with Tees and Tanks too! Find this skirt here.
SPEaking of which, this is also a great Tank, it's Textured but Lightweight. The cream color can also go with everything. It's generous so you can downsize! I'm in the middle, but honestly, the Small would fit me better. I Knotted it because there was extra fabric, here. So size up for a Tighter fit! Find this seersucker Tank Top here.
Summer shorts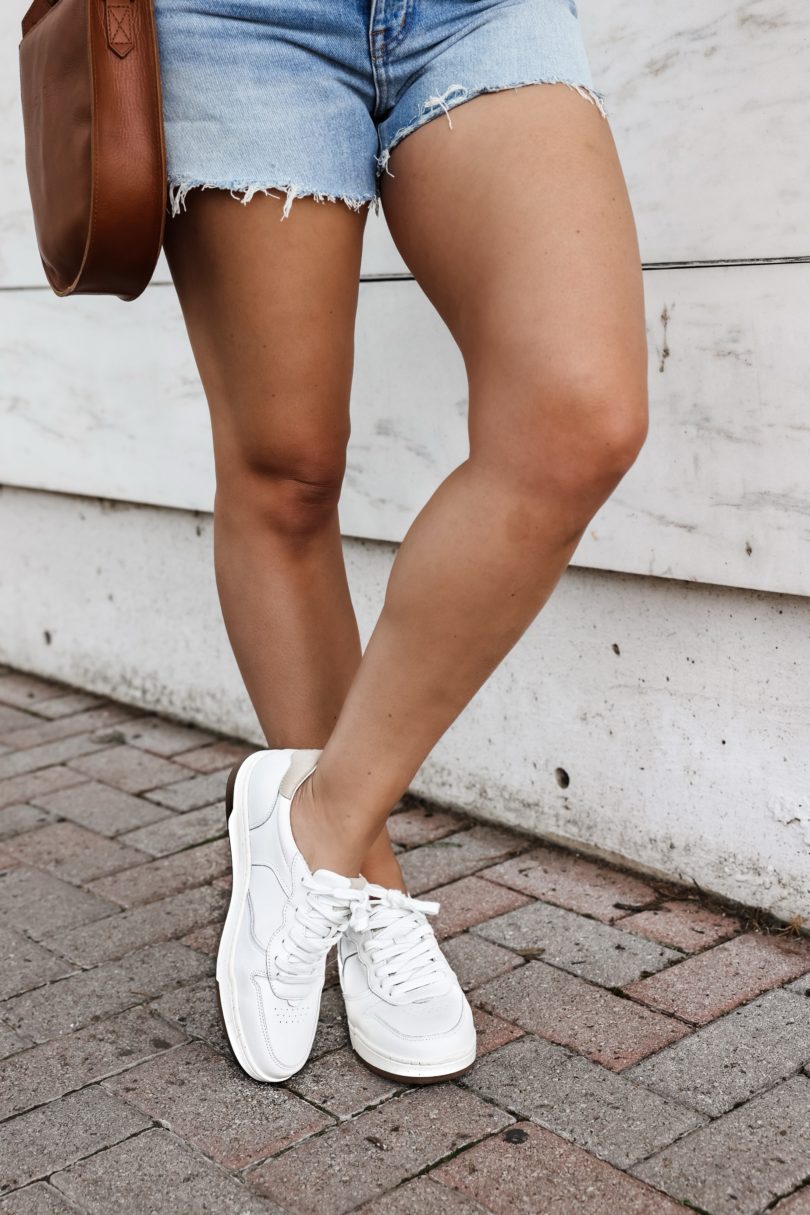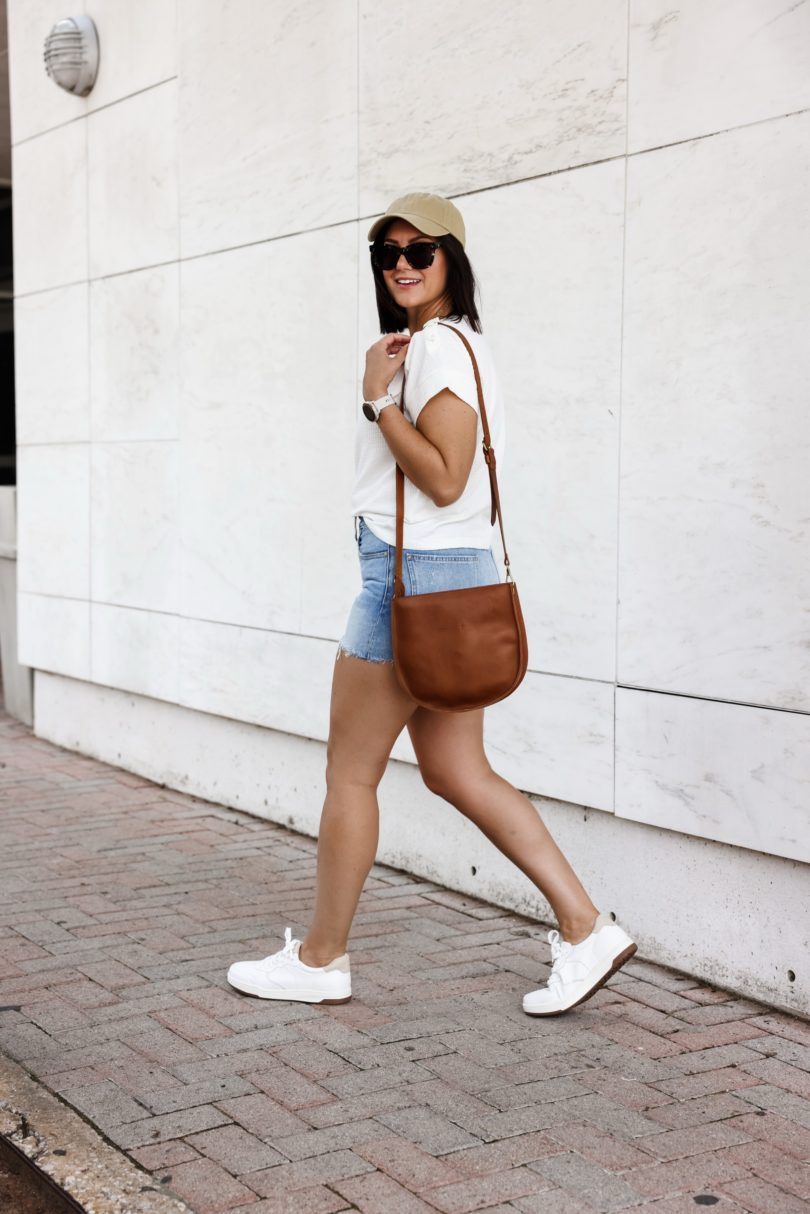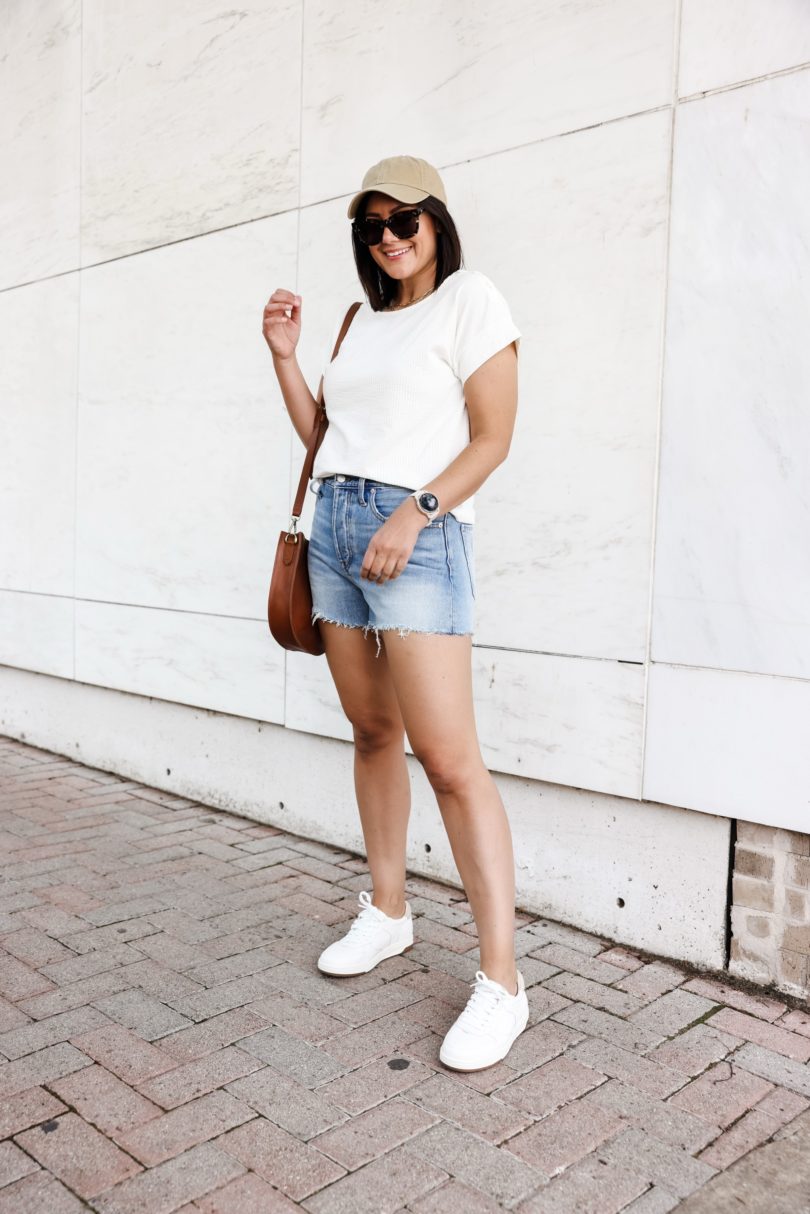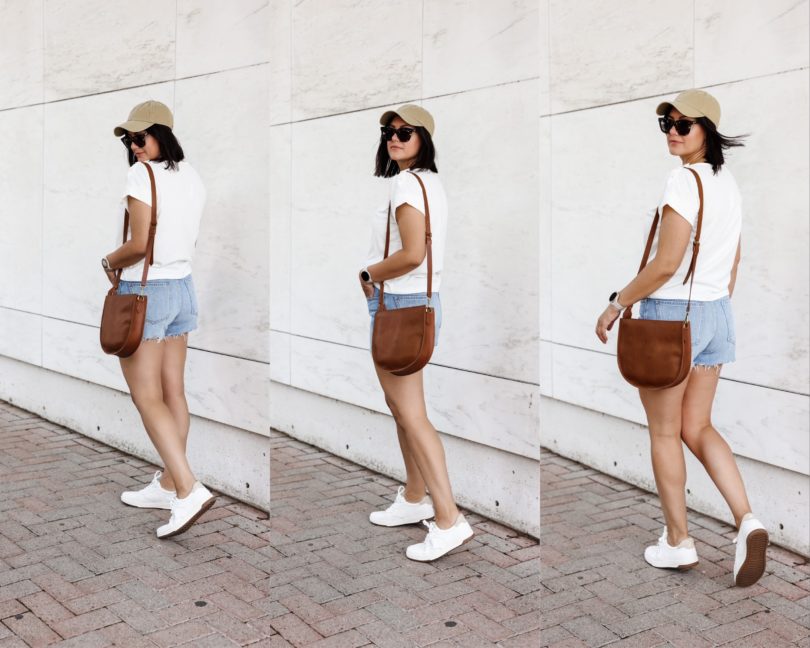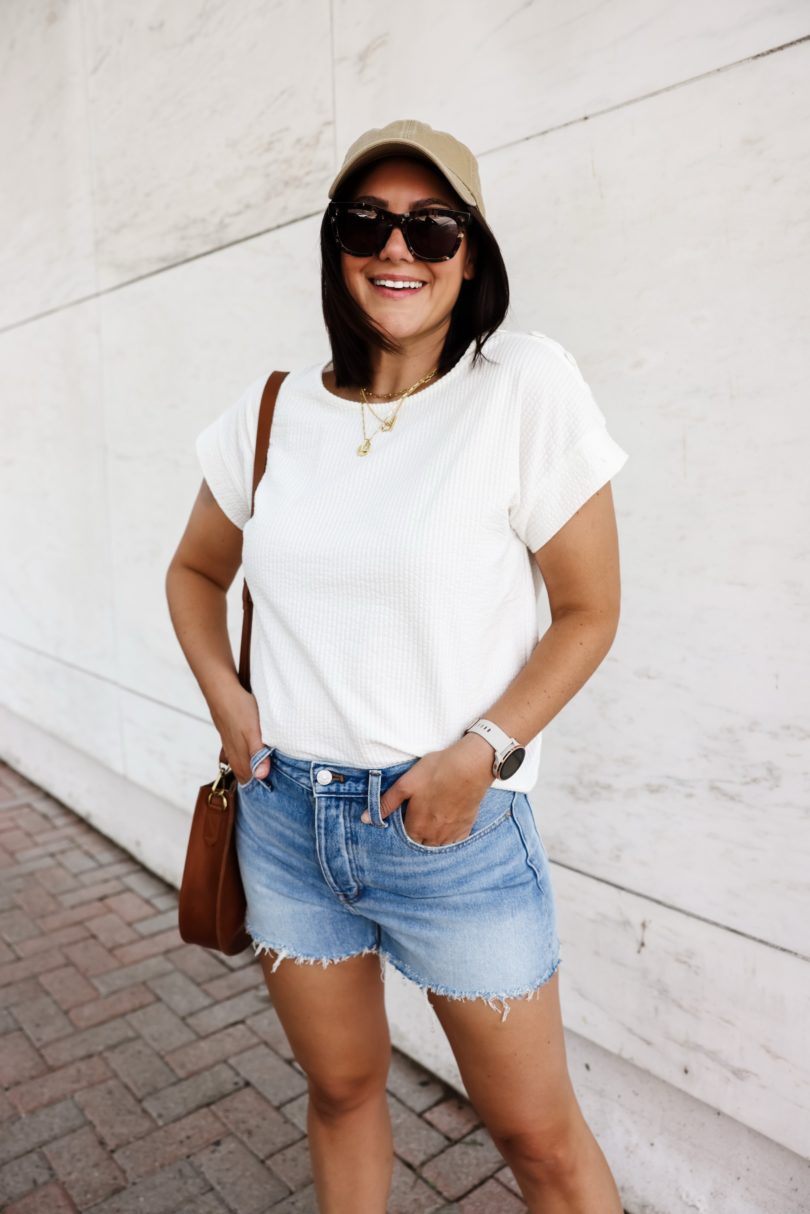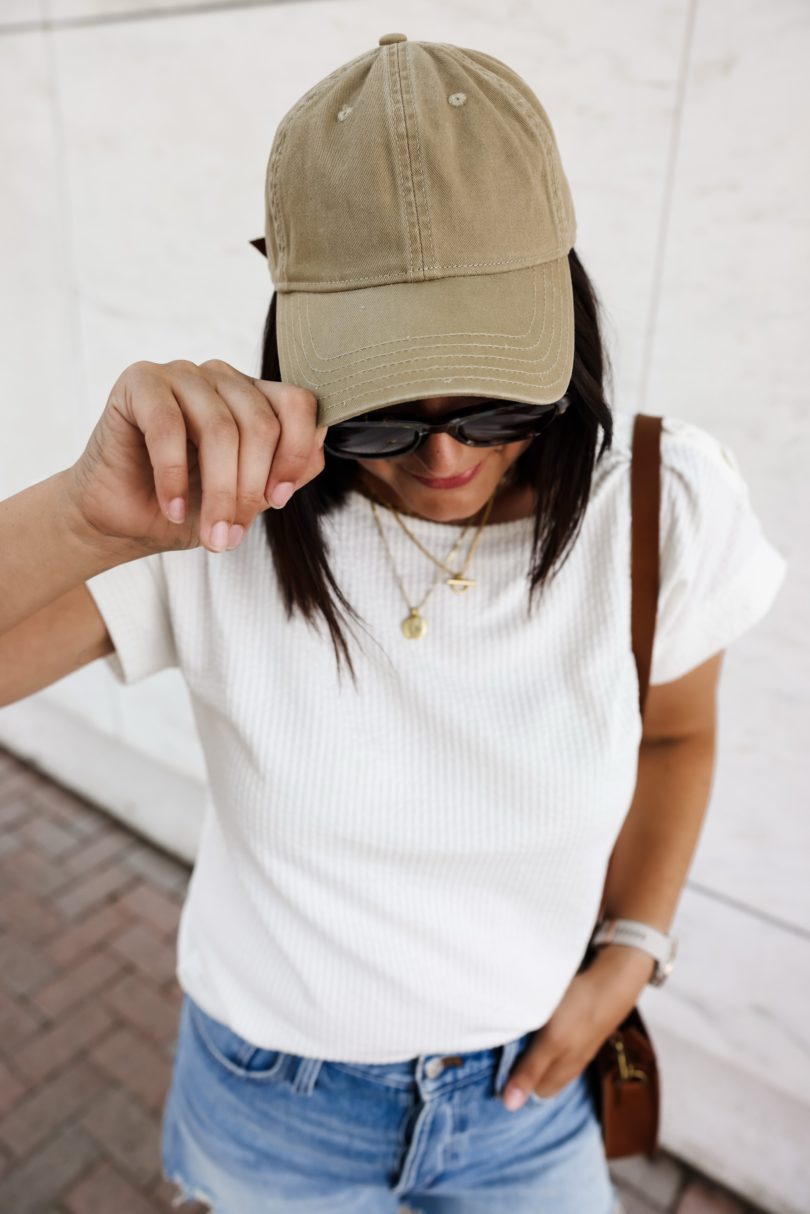 Top | shorts | shoulder bag | Cap | Slippers | Necklace | sunglasses
Is there anything better than a pair of jean shorts tHat fit you well? I don't kNow, but she's up there in a Swimsuit you feel comfortable in and Shoes that won't blister after weaRing it all day. Madewell is my FAVORITE pLace for Denim shorts for a number of reasons. One, they last for years and years. Shorts are a summer staple, and Denim is the most versatile, hands down. I've tried pretty much all of Madewell's styles *no exaggeration* and I really like their laid-back jean shorts the best. These are a Button fly and I have them in this length and a Medium length as well. I'm in 28 of the shorts here and they fit True To Size and although they have a shorter inSeam they are comfortable and not too short even for my 5'9″ frame.
Find them here!
If you're looking for a Longer length, try the mid-length pair here. I actually sized these up and LOVE how they fit a size up. Very Loose and hanging from my hips,so it is a nice and extra relaxed atmosphere. Find that pair here!
As I said before, a good all-match top is a sure summer staple. I like to keep it Neutral and this top is the perfect competitor, like the Tank above. If you like sleeves, try this top! I'm in the medium, fit True To Size. Find it here.
The summer dress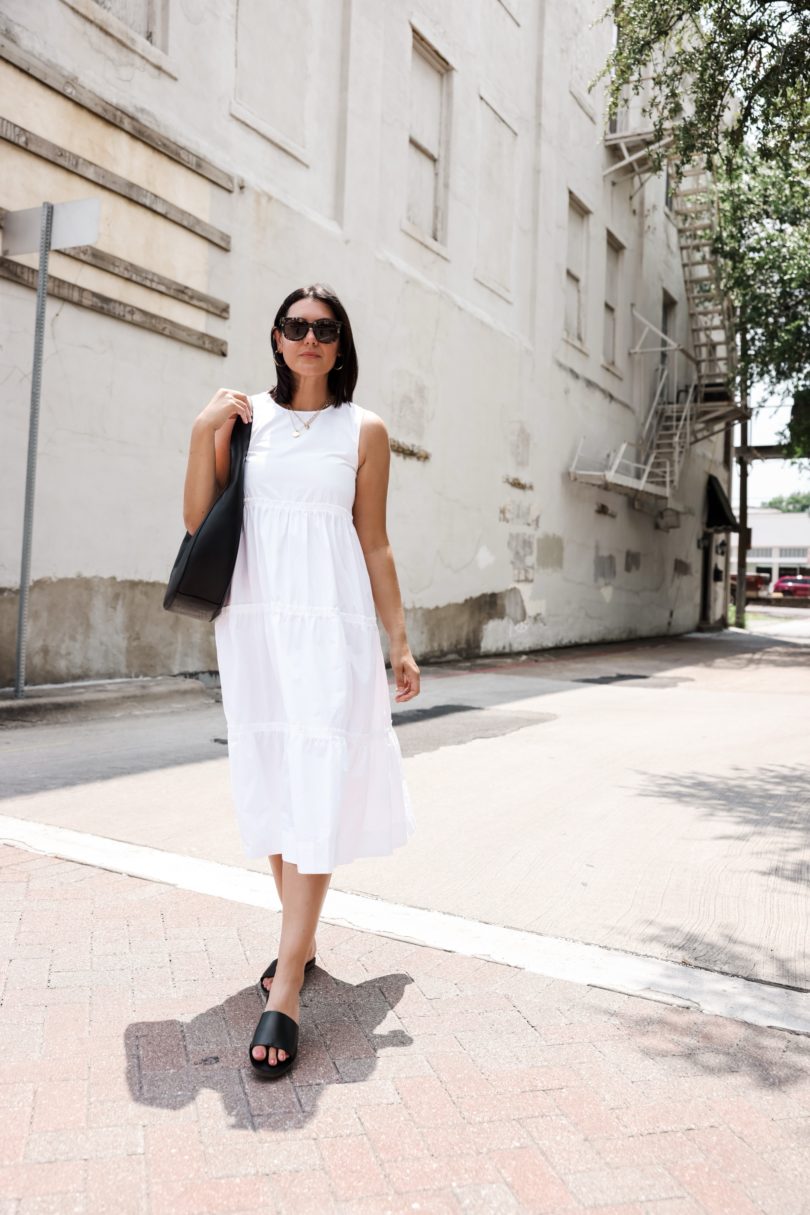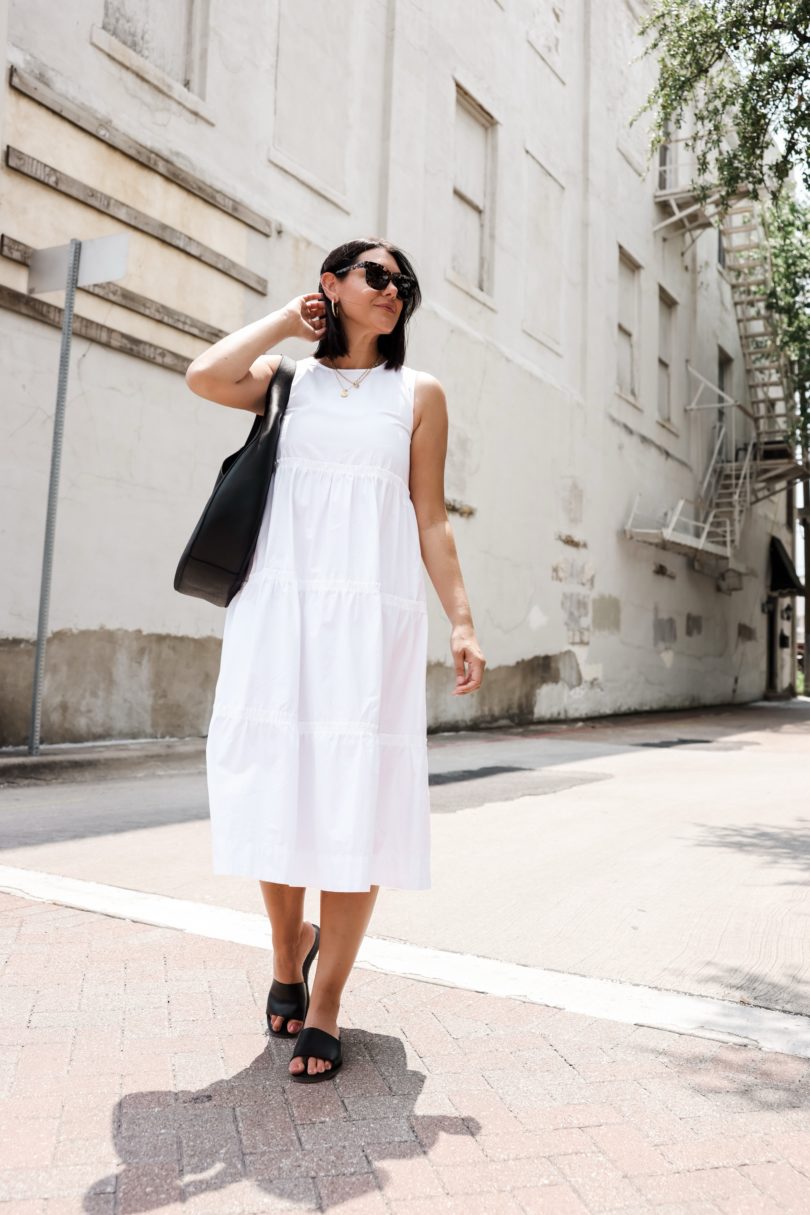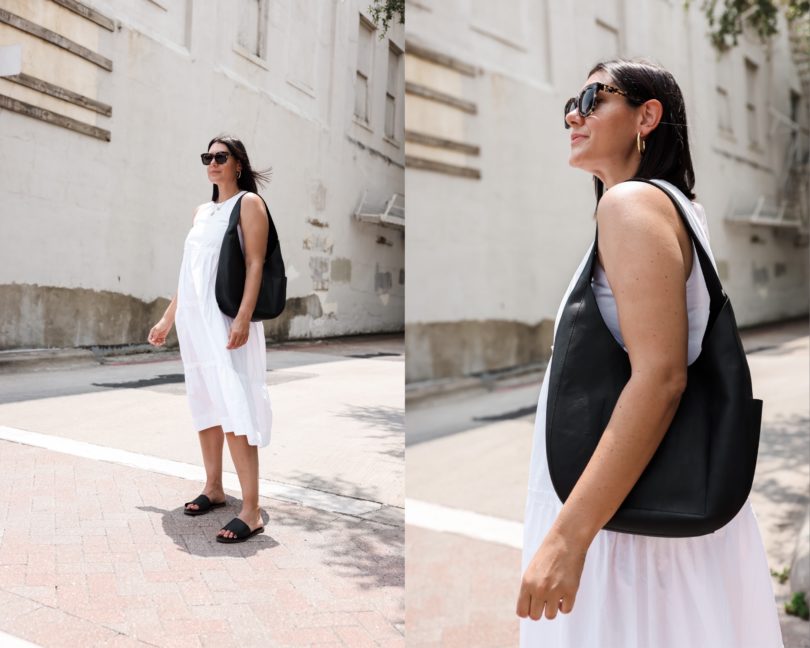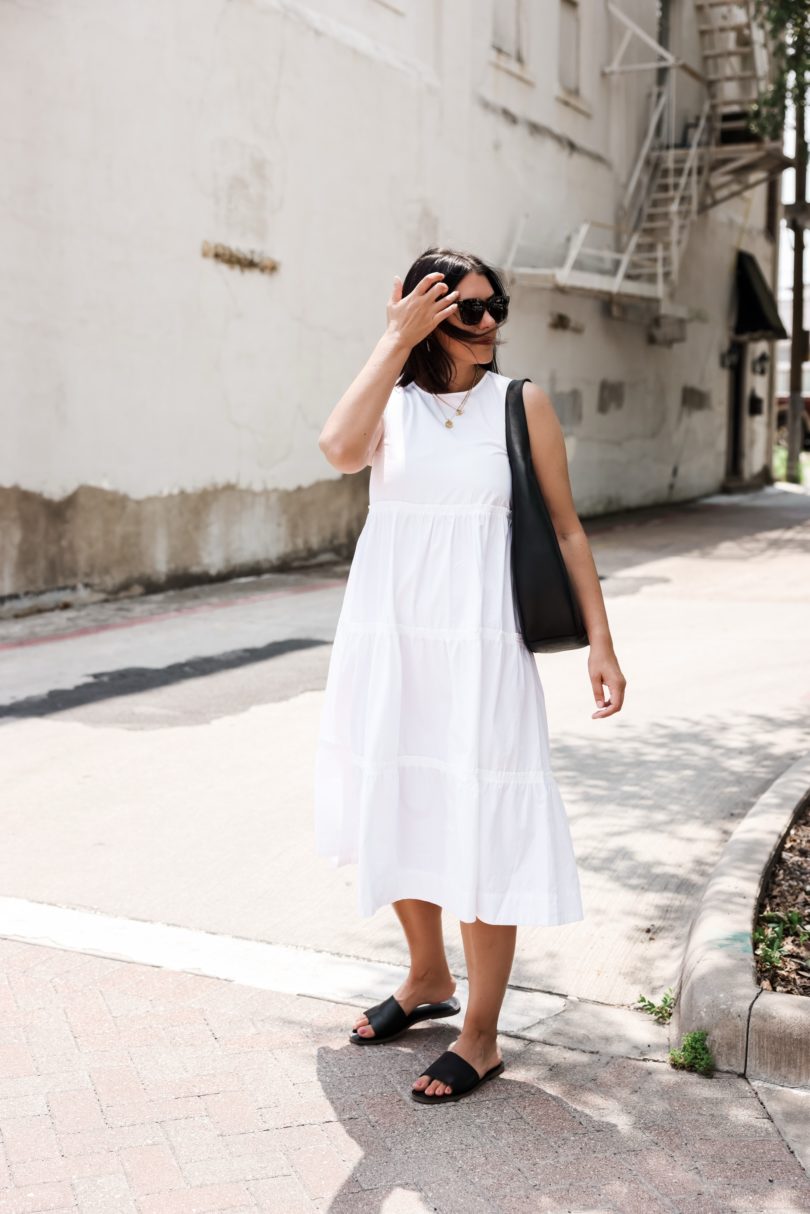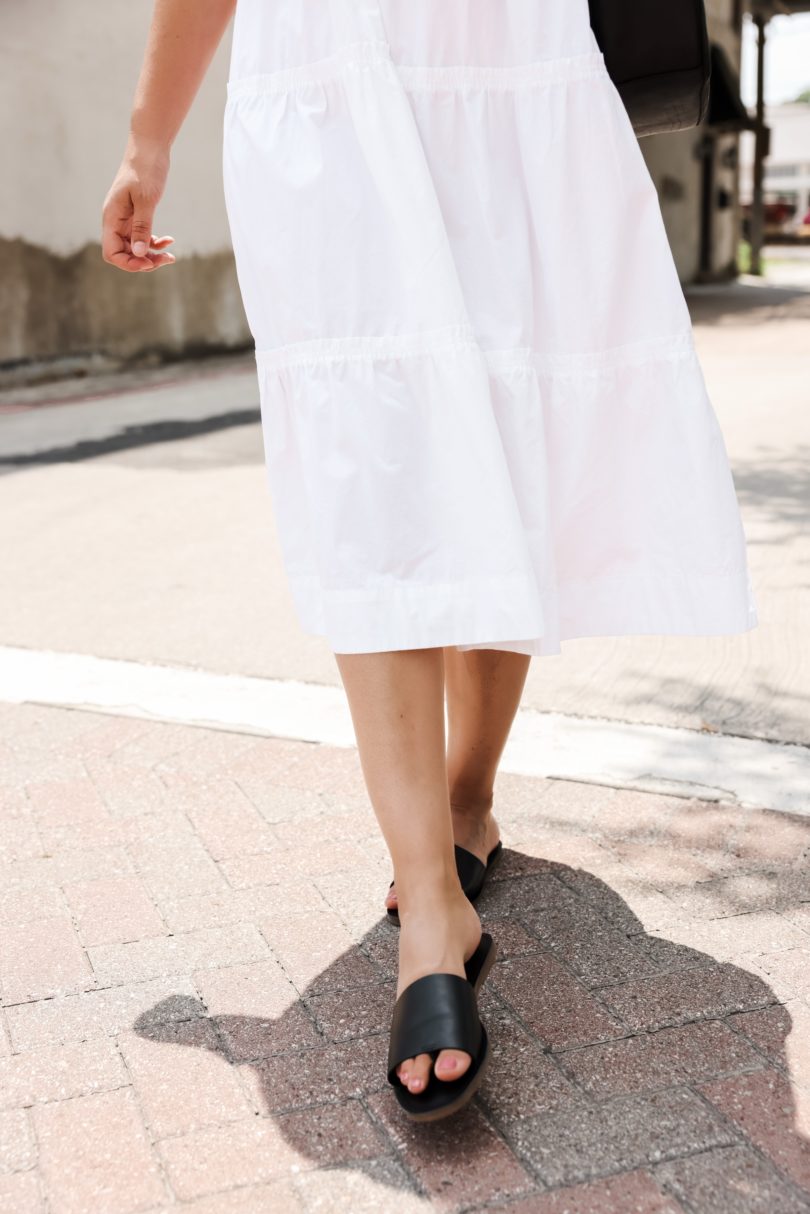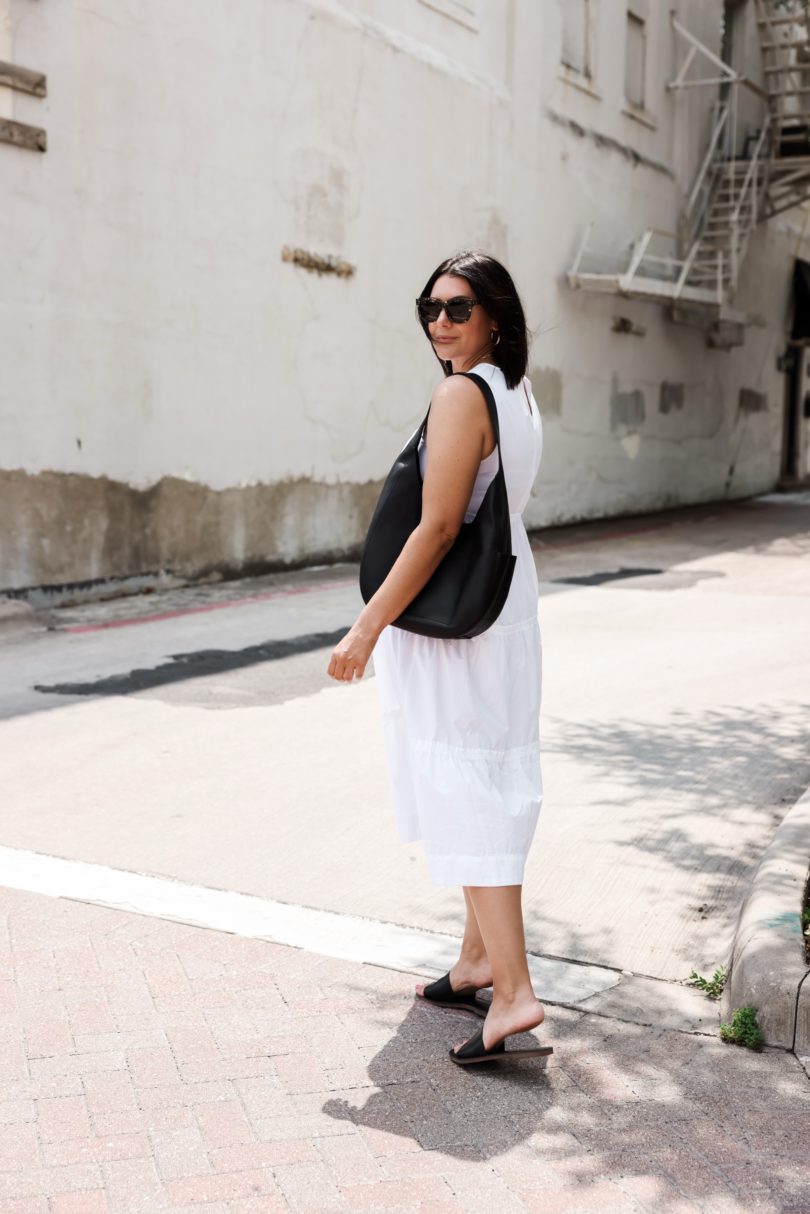 dress | PUrse | Sandals | sunglasses | NeckLace | Earrings
Last, but not least, the summer dress. White is a summer staple and this dress is bright White. I loved mixing it with Black Accessories because I felt it brought out the contrast between the two. This dress is easy to wear but feels elEVAted, great for Vacations too because it can be Casual or dressy as needed. I'm in the middle and the bust is a little Tight. Evaluate if you need more space in the chest! Find it here.
Let's talk about this bag: I LOVE this bag shape. It's buttery smooth and has plenty of room to carry what you need. And it goes perfectly with these Sandals, if I do say so myself. Find this cigar here. I have this pair of Sandals in Brown and Black, they are so good! Find them here. Fit to actual size. (They take about a day of use to break in, but they are very comfortable!)
***
You rather like to wear a dress, a t-Shirt and shorts or a Cute skirt, what is your perfect summer outfit? Let me know below!
*Thanks to Madewell for collaborating with me on this post! PS: Use code KendiEveryday at Checkout by July 14 for $25 off orders of $125 or more of full-priced items. Discount is valid only on Madewell items, not third-Party products, must have more than $125 in your cart, must be logged into Insider account to apply, and can only be used once.